Florida Sales Tax Program
Our Florida Sales Tax program is a simple to use desktop application that runs on the Windows platform.
Our easy to use data entry screens are facsimiles of the actual forms, and with each entry the entire return is recalculated and totals displayed.
Download a Demo or Order the Florida Sales Program now.
Click on the Thumbnail below to view a sample program screens
[sg_popup id="21" event="click"]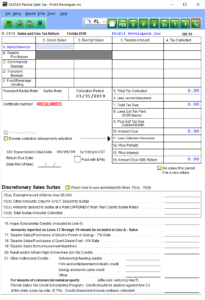 [/sg_popup]
Florida Sales Tax Features
| | |
| --- | --- |
| Initial Client Setup with Month-to-Month and Year-to-Year Data Transfer | Import Single Return and Consolidated Returns |
| Unlimited Number of Clients | Unlimited Tech Support |
| Custom Client Bills | Return diagnostics |
| Custom Transmittal Letters | Print Preview |
| Tickler Due Date Monitor | Batch Printing |
| Does Current and Prior Three Year's Returns | E-File available for all returns |
| Filing Frequency Flexibility including Monthly, Quarterly, Semi-Annual, Annual and 4-Week options | Supported Forms Include DR-15, DR-15CS, DR-7, DR-15EZ, DR-15SW, DR-15SWS, and E911 |
| Multiple County Surtax and Discretionary Surtax Rates | Estimated Tax Calculation Based on Prior Year Information or Projected Liability |
| Instant Calculations with Ability to Override for both On-Time and Late Returns | Calculates Late Return Penalties and Interest Due or Option to Submit to DOR for Calculation |